This page was last updated on November 12th 1999.
---
One More Time
News section

Nannes as she looked in Melodifestivalen
News added 1998-07-14
Nanne's new single out.
The song Nannes Sommarvisa has been released as the second single from the album. The single comes in a sleeve similar to that of the previous single and album. It contains three versions "album mix", Förlängd Version (= Extended) and Instrumental.
---
News added 1998-07-01
Nanne's Christmas single.
I did not find out until recently that Nanne had a Christmas single out last Christmas. Kul I Jul is the song called. It is composed by Nanne and produced by no one other then Michael B. Tretow. The flip side (or track 2 as it is called in the digital age) are a traditional Swedish Christmas song Midnatt Råder. I do have a limited number for sale. It is a song about the more negative sides of Christmas, even though the title is posetive (Kul I Jul = Fun At Christmas). The production is the typical Tretow, as it is on his novelty records. In other words very funny sounds etc
---
News added 1998-04-25
Nanne's album hits the shops.
This week Nanne Grönwall's first solo album, Cirkus Homo Sapiens was released. Just as the singel all of One More Time has produced together with Ulf Söderbergh. Except for two songs, which is produced by no other than Michael B. Tretow [the bloke who engineered and mixed most of what ABBA recorded]. So the sound should be familar, however with a greater depth then her main band. Most surprisingly, the album has got a few great reviews.

Nannes album cover
Cirkus Homo Sapiens track listing:

Vem Som Helst
Nannes Sommarvisa
Avundsjuk
Madonnan
Till Dej
Viskaren
Cirkus Homo Sapiens
Martyr
Det Skulle Varit Jag
Själar Av Blod
Viktiga Små Ord
---
One More Time in Europe, again.
To correct the news later down. At last, last years album has got an international release. It finally got the title Living in a dream. Apart from english language versions of the Swedish songs, they added a little bonus. This is the grammy winning mega hit Det Vackraste which One More Time wrote and produced a few years ago for Cecilia Vennersten. So they have at last done a version of their own of their biggest hit.
Living In A Dream track listing:

Living In A Dream [Det vackeranste]
The Wilderness Mistress [Den Vilda]
Puttinhg In A Charme [Kvarnen]
You Will Never Be Alone
Invaluable
The Maze
Milky Way
The Whole Quilt All To Myself
The Pied Piper
Crossroads
Rapids In Springtime
---
News added 1998-03-28
Nanne in the Eurovision.
She came 4th with the song Avundsjuk. It was released as a single a few days ago. All of One More Time has assisted in the recording studio. An album with Nanne is planned for later in the year. The CDS is released on a brand new label, Face Music. It is most likely Peter and Nanne's own label. I have it ready for emidiate delivery, at SEK 60 + P&P.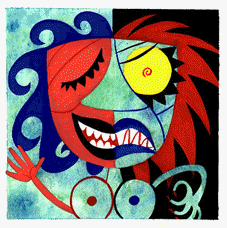 The Avundsjuk single cover
---
News added 1998-03-03
One More Time in Europe.
Their latest album Den Vilda and the single with the same name has been released in English in some European countries. Austria amongst others. But they are very hard to get. The album The Wilderness Mistress has the same sleeve as the Swedish issue. The single has the same sleeve as the Kvarnen single. If you want to try and get them, the album has the catalouge number COL 484310 2 and the three track CD-maxi COL 663269 1.
---
News added 1998-01-03 and updated 1998-01-27
One More Time to try and get to the Eurovision.
One More Time is One More Time (:-) trying to reach the Eurovision Song Contest. As has been the standard procedure the last few years SVT has invited Peter and Nanne to do a song for Melodifestivalen (the Swedish heat for the ESC). The song is called Avundsjuk (Jeallous). It it will be performed Nanne Grönwall herself. What this means for the future of One More Time is not known.
---
Peter Grönwall makes a score.
As a follow up to the film Mästerdetektiven Kalle Blomkvist, where Peter also was involved with the music, a new film opened up on Christmas day. As last time the film is based on an Astrid Lindgren book. This time it is Kalle Blomkvist & Rasmus that hits the silver screen. Peter has made the score music to this film about the child detective. It is not known if the music will be released on CD.
Records for sale
All prices are in SEK. Postage and packing will be added. See the ordering information page for more details about ordering. If you click on the button below, you can convert SEK to your currency.

Title
Type
Number
Price
in
SEK
Nanne: Kul I Jul / Midnatt Råder
CDS
LHCDS 0027
70
Nanne: Avundsjuk / (Instrumental)
CDS
FMS 101
60
Nanne: Cirkus Homo Sapiens
CD
-
170
Nanne: Nannes Sommarvisa / (Förlängd Version) / (Instrumental)
CDS
FMS 102
60
At the moment this listing does not cover all of the records for sale, but it will be added soon. Until then send me a mail with your postal address and I will send you a list.
Navigation for NON-FRAMES version only:
| Swedish Main |
| The Cardigans | One More Time | Secret Service |
| Cherion |

| Back to Robert's music main! |