If you like the two duets with Ola Håkansson, I can recommend you to visit the Secret Service page. The Way You Are appears in a edit of the "Extended Version" on the Secret Service album Aux Deux Magots. Even if they are titled as a duet with Ola, they are in fact 'Secret Service & Agnetha Fältskog'.
---
News added 1998-05-17
New song released.
The first single from the forth coming album That's Me - The Greatest Hits was released here on the 15th. A two track CD is expected, but for now only a four track CD is available. The Queen Of Hearts is the only new song of the four. It is not really new, being produced by Agnetha herself and Michael B. Tretow, it was released in Swedish back in 1979 as När Du Tar Mej I Din Famn. The three other songs are all from 1985: One Way Love, I Won't Let You Go and Eyes Of A Woman.
---
News added 1998-05-03 and updated 1998-05-09
Another compilation on the way.
Yet another new compilation are on its way, That's Me is slated for release in June. As opposed to the one released, it will be in English, and contain some hard to get material. PolyGram, which releases it, has via it's subsidiary Sonet, the rights to the duets with Ola Håkansson [lead singer of Secret Service] a few years back. The Way You Are, which of course was the single A-side, was also included on Secret Service 's album Aux Deux Magots in a shorter edit of the 12" version. This album has been deleted for years. Fly Like The Eagle the B-side, has only been released on CD on a hard to get compilation album. Both these tracks now see the light of day on this new compilation. There may already next week be a 2-track and a 4-track CD out.
---
News added 1998-05-03, updated 1998-05-09
New compilation Svensktoppar out.
A new compilation is just out. Apparently it was released at the end of April. Svensktoppar is an album with only Swedish songs on it. Basically the same as 10 År Med Agnetha, with Sången Föder Dig Tillbaka added and with a new sleeve. It is part of a new series of compilations, called Blå Gula Toner.
Svensktoppar track listing
Swedish Peaks
Tack För En Underbar Vanlig Dag

Thanks For A Wonderful Ordinary Day
När Du Tar Mej I Din Famn

When You Take Me In Your Arms
Jag Var Så Kär

I Was So In Love
Om Tårar Vore Guld

If Tears Were Gold
Vart Skall Min Kärlek Föra

Where Should My Love Lead
En Sång Om Sorg Och Glädje

A Song About Sorrow And Happiness
Dröm Är Dröm Och Saga Saga

Dream Is Dream And Fairy tale Is Fairy tale
Så Glad Som Dina Ögon

As Happy As Your Eyes
En Sång Och En Saga

A Song And A Fairy tale
SOS

SOS
Doktorn

The Doctor
Fram För Den Svenska Sommaren

On With The Swedish Summer
Allting Har Förändrat Sej

Everything Has Changed
Utan Dej Mitt Liv Går Vidare

Without You My Life Goes On
Zigenarvän

Gipsy Friend
Många Gånger Än

Many Times Still
Sången Föder Dig Tillbaka

The Song Takes You Back
---
Previous news
Agnetha update
Agnetha seems to continue her Garbo like life. The few public appearances she has made in the last years has been to the opening of 'Kristina Från Duvemåla'. It is said that she actually recorded about half an album in 1990-91, but it has never been confirmed. The compilation double CD My Love, My Life. That was out in 1996, has been repackaged by TV-Shop, it includes a bonus disc, which has the following songs on it:
My Love, My Life disc 3.
När Jag Var Fem
Hjärtats Saga
Sov Gott Min Lilla Vän
Ta Det Med Ro
Då Finns Du Hos Mig
Kungens Vaktparad
Nya Ord
Sången Föder Dig Tillbaka
En Egen Trädgård
Doktorn
Och Han Väntar På Mig
I Wasn't The One (Who Said Goodbye)
Något Händer Med Mig [duet with Jörgen Edman]
Mössens Julafton
Tre Vita Råttor
---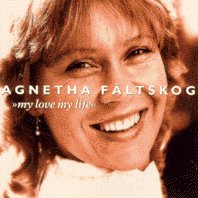 Standard 'My Love, My Life' CD cover.