News added 2000-11-26
Tour dates.
At least one extra date has been added, a second concert in Göteborg. Here is the complete list.
Kristina Concert Tour 2001
Evedal, Växjö, 6/6
Sofiero Slott, Helsingborg, 8/6
Mölleplatsen, Malmö, 9/6
Trädgårdsföreningen, Göteborg, 10/6
Trädgårdsföreningen, Göteborg, 11/6
Slottet, Finspång, 13/6
Stockholm Stadion, Stockholm, 14/6
Sammilsdal, Leksand, 16/6
Merlo Slott, Sundsvall, 17/6
---
News added 2000-10-08
Kristina concert tour 2001.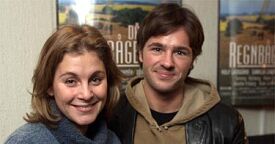 On june 6th 2001 a concert tour of the Kristina Från Duvemåla musical will open up in Växjö. There are, at least at the moment, only planned to be a handful of shows. Each show will be three hours (as opposed to the original four), including a recess.
There will only be music, no talking. The original cast for the leading roles will be there: Helene Sjöholm, Anders Ekborg, Åsa Bergh and Peter Jöback. The music will be performed by Göteborgssymfonikerna [Gothenburg Symphony Orchestra] and being conducted by Anders Eljas. Björn & Benney are supposed to do a few secret appearances.
---
News added 1999-11-16
New Kristina album.
A new collection of songs from Kristina... has been released. Sexton Favoriter ur Kristina från Duvemåla [Sixteen favorites from...]. It is another word a greatest hit collection. Some of the songs are in their single mix. The sleeve consists of what appears to be a stamp collectors album with sixteen Kristina stamps in various colours.
---
News added 1998-12-23
New bloke to do the Robert part.
The replacement for Christer Nerfont as Robert is now selected. It will be Niklas Andersson. He comes directly from the Göta Lejon Theatre in Stockholm where he did Chris in Miss Saigon. The same part that Peter Jöback left 'Kristina' for, but in his case it was in London. Christer Nerfont leaves to play the part of Tony in West Side Story in Göteborg, a part that Niklas Andersson has done, but in Malmö. One might think it may be to few musicals for the lads to appear in ;-)
---
News added 1998-12-22
The fifth single is out.
Time for another single. This time it is Präriens Drottning (which actually is a tribute to a stove...). It is a shorter edit then on the album (4:04 it is to be exact). It is supported by Kamfer Och Lavendel.
---
News added 1998-12-20
Peter Jöback for a 100 weeks.
This week saw Peter Jöback take Guldet Blev Till Sand to the history books once again. It is still on the 'Svensktoppen' chart. This time he has been on it for a hundred weeks straight. Earlier this year saw him break the record for longest running song on that chart. [See News added 1998-07-14 for more details.] Peter was quoted to say "And it went up a bit again, to the number four slot. Weird, but amazing. It would be fun if it made the two year barrier, it does that in four weeks."
---
News added 1998-11-28
Court case delays American premiere.
The American version of 'Kristina' continues to drag on. This time it is an unsolved dispute over the rights (and the earnings...) of the script for the Swedish edition of the musical. Playwrite, actor and director Carl Johan Seth claims that he is the sole writer. According to Björn Ulvaeus that is not the case. In his version, the script that Seth made was unusable, so Kristina's director Lars Rudolfson and Jan Mark had to re-write the whole thing. The dispute will now be solved in court, and then the work will continue on the New York edition of the play.
---
News added 1998-10-10
Three years on the stage.
It is now (well on the 7th) three years since the premiere in Malmö. The musical has so far been seen by 691.000 people, at 474 shows (194 in Malmö, 125 in Göteborg and 155 in Stockholm). There are 220.000 tickets booked for the winter and early Spring, so the millionth person will attend a show in the late spring next year.
---
News added 1998-09-09
Peter Jöback got great reviews.
Two days ago Peter Jöback had premiere on his very on show at Hamburger Börs, in Stockholm (it is NOT a hamburger place...). He does songs from his latest album as well as from the musicals he has stared in and other songs, he even does Stayin' Alive. It is expected to run at least through the Autumn.
---
News added 1998-08-23
Another Robert leaves the cast.
It seems as the role Robert makes people popular. Peter Jöback started the trend when he got cast for Miss Saigon in London. His replacement, Christer Nerfont has now got part as Tony in West Side Story at the Göteborgsoperan the coming spring (the same venue as Kristina was on in Göteborg).
---
News added 1998-07-14
Peter Jöback breaks record.
On June 21st Peter Jöback's Guldet Blev Till Sand was on the chart "Svensktoppen" for the 74th consecutive week. This broke the record of 73 weeks, held by Streaplers Till Min Kära. When I write this he there for the 77th week, and the song is still doing well, perhaps a try on the 100 week??? This is the second record the song has on that chart. [See "News added 1997-12-21" for more info on the first.] Svensktoppen is a voted chart, with the older half of the population being most interested.
---
News added 1998-04-25
Peter Jöback releases 'Chess' song on single.
This week saw the release of a 1-track CDS, Vem Ser Ett Barn, Björn Ulvaeus' translation in to Swedish of the Chess song Pity The Child. It is the second single out from Peter Jöback's successful solo album Persolniga Val.
---
News added 1998-04-20
Peter Jöback to leave the show, again...
Peter will have premiere on a show of his own on the 7th of September 1998 at the show palace Hamburger Bars (has nothing to do with American junk food) in Stockholm. It will be based on the current album. A band seventeen musicians and four female dancers will be on stage. He will perform in 'Kristina' on the first three weeks of the Autumn season, and at sporadic dates later on (my guess is when the replacement need a rest).
---
News added 1998-04-15
Helen & Co releases a record.
Helen Sjöholm (Kristina), Christer Nerfont (Robert) and Marianne Merck (Fina-Kajsa) has made a record together. It is called Strike Up The Band, and supposed to hit the shops on April 17th. The music is performed by Malmö Brandkårs Big Band [Malmö Fire Department Big Band]. The whole thing is sponsored by the City of Malmö and Brokonsortiet i Malmö. [A big construction company consortium that builds a bridge from Malmö in Sweden to Copenhagen in Denmark, a trip that with ferry takes almost one hour, so it is a loooong :) bridge.] The album includes musical tunes, big band stuff and instrumentals.
---
News added 1998-03-14
Åsa Bergh's album released.
With great critical acclaim, she has now released her album Vi Sjunger I Natt. It is almost entirely based on original material (as opposed to Peter Jöback). Christer Nerfont, who alternates as Robert with Peter Jöback, appears on some songs as a duet partner. Åsa has an official site at: www.portlandia.se/asa.bergh (it is in Swedish). I have the album ready for immediate delivery.
---
News added 1998-02-22 and updated 1998-02-24
Sheet music available.
Mono Music has released a sheet music book of 14 songs from the musical. There is also a few pictures from the event. The songs are arranged for piano. I can get hold of the book, price is SEK 350 + P&P.
---
Åsa Bergh goes solo.
Now also Åsa Bergh, who does the part of Ulrika from Västergöl, has recorded material for a solo album. A single is out in the form of En Sådan Natt (Oh What A Night). The album is also due soon. The single is quite hard to get hold off, as it is financed by Åsa herself together with composer Pär Jonsäter, and released on very small label, RFM records.
The album Vi Sjunger I Natt (We Sings Tonight) is probably out very soon as reviews have been written. In my local paper it got the very good grade of 4 out of 5.
---
News added 1998-02-18
Concert for Stockholm.
As part of the on going Stockholm - European cultural capital 1998 festivities, on February 25th and 26th SVT will record a concert at the Stockholm city hall (the house were the Nobel banquette usually take place). Music will be performed by the Swedish Radio Syphony Orchestra. Singers will include Helen Sjöholm and Peter Jöback. The whole thing will be on TV on April 26th.
---
News added 1998-02-08
Preparation for the opening in Stockholm.
On the 5th of February Benny had a little tour for the press at the Cirkus theatre. The whole place has been renovated for 45 MSEK (5.75 million US$). This makes it possible for the stage to accommodate the 70 actors which is on it at some parts of the show. So far the musical has been seen by 450.000 people in Göteborg and Malmö, and the rest of 1998 is sold out. Benny can not himself explain the enormous popularity, but thinks it is due to the time less story by Vilhelm Moberg. He also mentions that he has seen about 50 times himself, and is still not tired of it. They are working on an English language version of it, which is likely to be put up in USA first of all.
It will be the same four leading singers as before. But they will now be replaced a few days each week. This comes as a big relief especially for Kristina herself, Helen Sjöholm. She is on stage for most of the four hour show, and is afterwards completely worn out in both body and soul. The four are now a well connected team, and looks forward to a new city, in which most of the lives anyway. The director Lars Rudolfsson is putting up Verdi's Falstaff at Malmö musikteater, with the premier on April 17th.
---
News added 1998-01-31
Helen in cartoon.
Kristina star Helen Sjöholm makes one of the voices in the Swedish language version of the new Fox cartoon movie Anastasia. Helen does the voice for Anastasia herself. The film is based on the legend that when the communist revolution happened in Russia 1917, and the Tsar family was executed. The little girl Anastasia, one of the Tsar's daughters, would be the only surviving member of the House of Romanov.
---
News added 1997-12-21
English translation.
It is said that there is people working on a translation of the musical into English. About a year ago they did a few concert shows in America, and this was very well received by the audience. Most of the audience did not know Swedish, but the message went through anyway. This led Björn & Benny into thinking about an international launch of Kristina. It is not known where and when, or even if, it will open up. But Chicago or London seems for two completely different reasons to be likely places to start.
---
Kristina moves to Stockholm.
On February 14th 1998 Kristina will finally open up in Stockholm. It will be in the newly refurbished Cirkus arena. The leading actors from the Malmö And Göteborg performances are again doing the same parts. At least during the spring. It is very likely that Peter Jöback heads back to London during the autumn. The musical has not been performed at all during the autumn of 1997, probably not to hamper ticket sales in Stockholm, and also not make the actors to feed up with their parts.
---
Musical song breaks record.
The chart Svensktoppen, which is a voted chart on national radio channel P4, is the place of a record for the musical. Guldet Blev Till Sand, which is performed by Peter Jöback, stayed for an enormous 36 weeks on the number one spot! This was a new record. To be honest this is not the most fast moving chart in the world. It really has no impact on record sales etc. Björn held a previous record on the same chart. Hootenanny Singers had their song Omkring Tiggaren Från Luossa on the chart for 52 weeks during the early 70's. This record was not breached until the late 80's. Peter Jöback has a chance on the "longest time on the chart" record, the song is already the 5th longest there, he has only to keep in there for another 30 weeks or so...
---
Peter Jöback solo.
Following the success in Kristina, Peter went to London's West End during the spring 1997 to star in Miss Saigon. This he apparently did with the blessing of Björn & Benny, who let him go if he returned to the Stockholm shows.
Peter returned to Sweden again this summer, and then recorded an album with his favourite songs from various musicals. Two Björn & Benny songs is included, Ut Mot Ett Hav From Kristina, plus one song from Chess to which Björn has made Swedish lyrics. The whole album, Personliga Val is sung in Swedish and is produced by Johan Ekelund, former member of Ratata. The album seems to be an enormous success, and is one of the most sold albums during the Christmas race. He did make the very conscious choice of not using Guldet Blev Till Sand on the album. Very few artists has the courage and integrity not to include such a hit on an album.