As it, due to the Göteborgs Kalaset festivities, was free to enter the fun park Liseberg, the crowd was very mixed. And as many were there more for the event as a whole (or just because it was free...) the crowd never really "boiled up". However it was a nice show. Göteborg (or Gothenburg) is the second biggest city in Sweden, located on the west coast. Liseberg is the biggest fun park in Scandinavia.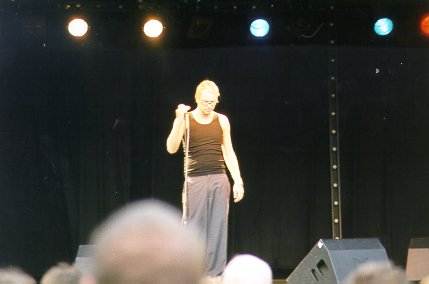 They went on the stage at exactly 20:00 as advertised. The show lasted for about 40 minutes and 10 songs. The songs were from both the new album as well as their debut.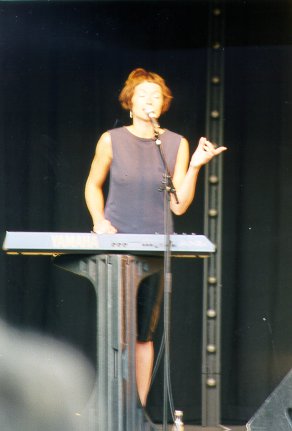 There were just the three of them on stage. With Marina and Alexander behind a keyboard each. The music was on tape (apart from some noises made by the two keyboard players). There was not much of lights, and no video screen, or laser. On the other hand it was full daylight at the out door venue so it would perhaps not been any point anyway.
Mattias talked a lot between the songs. Trying hard to be 'The Great Entertainer', only half succeeding. He has an easy going attitude and clearly enjoys to be on stage and to have contact with the audience. These are good qualities for any artist. Give him a few more years and he will be an ace entertainer. However after having visited the show with Orup a few days later it is clear he still has a bit to learn, on the other hand Orup is having about 15 years more experience. Alexander only spoke once. It was when they should do the encore, translated it went something like this: "We waited with this song until last, because it is such a bitch to sing. Mattias will not be able to speak for two weeks." Marina did not say anything at all. But on the other hand she had a few solo vocals verses in some of the songs.
The songs listed below was performed.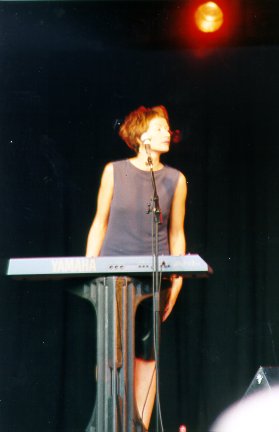 1. Tonnes Of Attraction
2. Power
3. Shape Of Things To Come
4. Tears Of A Nation
5. Satyricon
6. Parallel Universe
7. I Breathe
8. Pride In My Religion
9. Let The Mountain Come To Me
Encore:
10. Science Of The Sacred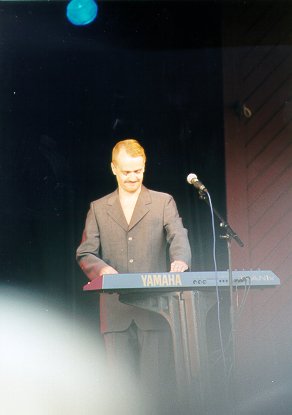 There was a littel talk from Mattias betwen each song, which seemd not to be prepared. But more like a spur of the moment.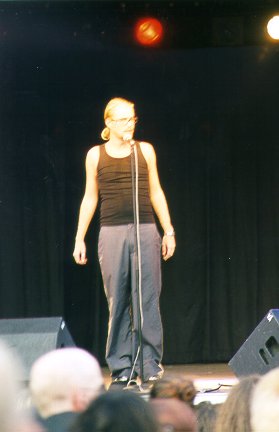 The audience seemed to be very happy when I Breathe was played, signing along and such things. Also Pride In My Religion was popular. Apart from that there was mainly the courteous applause between songs.
My own impression of the show (and now I mean the 'Show', not the music which is reviewed in the next paragraph) is that it is a fairly boring show. There is no lights, lasers or video screens to enhance the experience. This in the combination with the fact that it is only the three of them on stage, of which two are standing very still at their keyboards. Mattias too is not moving around to much. If they are to make a more proper tour they must add something. Be it the mentioned lights, lasers or video screens. Or why not a few more musicians and a couple of dancers.
To be honest it didn't seem as Vacuum (at least Alexander and Marina) was to interested in being there on the stage. Maybe it was a bad day, maybe it was the event. Perhaps it is the way it is, Vacuum being more of a studio band then a live rock and roll band.
The music then? Well as it was mostly on tape, so the sound was excellent. Not all was playback, the vocals was live as well as what Marina and Alexander played. But that is just 2-4 keyboard sounds per song, songs that are built up of maybe 80 separate tracks. Well to prove it was live Alexander went jamming a bit at the end of Tonnes Of Attraction.
However, my view on the debut album is the same as on the music that was played here. Each individual song is very good. But they are too similar in both arrangement and tempo so the big picture is one of tediousness. They should work on their arrangements, use more types of keyboards. Learn from Pet Shop Boys, Mauro Scocco and others to use synthesizers from the 70's up to the latest state of the art.. The songs are all also some sort of 'mid tempo', with the odd 'upper mid tempo'. They lack the really slow ballads such as My Army Of Lovers and the really fast up-beat songs like King Midas. This means the show loses momentum.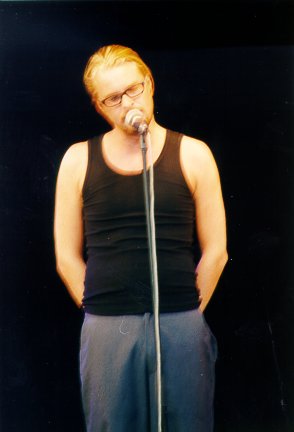 All the pictures are by me and are Copyright © 1998 Robert Velén. Any one who feels like it are free to use them for non-commercial purposes and if the source is stated [= a link to my site]. Generally I was quit disappointed with my photos. I took a full 36-roll, and the one on this page are the least bad ones. The rest looks like crap because I had too slow film so they got very blurred, because of the long distance every little motion on my behalf makes a picture almost useless.