News added 2000-11-03
Vacuum without record deal!!
After some time of speculation about the future of Vacuum. The Culture Of The Night album was only released in Russia, in a batch of 5000 copies. No release plans has been out from Stockholm Records for quite a while. By way of David Haglund Vacuum gave this message to the Vacuum e-mail list:
Dear friends,

Heard from David that you are talking about a split of Vacuum. Well, itīs true in one sense! We have left Stockholm Records. Why? Well, itīs a long, quite boring story, but in short we disagreed on everything. Thatīs a good reason! We are currently working on different projects and we are not focusing on Vacuum right now except the live-shows. But we want you to know that we have NOT split up and you will see more of us in the future. We also want to add that if we had had a record-company who believed in our ideas and music we would have continued but as things turned out we had not. We have enjoyed big-time success in Russia and Marina and I have loved every second of it and we hope to perform live soon again. We will keep in touch with David in everything that we do so he will keep on feeding you info.

Live gloriously,

Mattias & Marina + Vacuum-crew
In a related context, Mattias has apperently some sort of contract, at least publishing, with Sony Music. What this leads to is not yet clear.
---
News added 2000-03-05
Icaros finally hits the shops.
This week finnally saw the release of Icaros. As usual two singles are out. One two track in a card board sleeve and a four track remix CD maxi-single in a jewelcase.
---
News added 2000-02-01
News update.
I realise that there was quite some time since I last enterd any news here. That is mainly becuase Stockholm Records has not been very fothcomming with news about the uppcomming album. On occasions in the past year and a half there has been rumours that the replacement single for Let Mountain Come to Me would be Icaros and that the release would be imminent. Well we have heard that one before...
In the meantime Alexander Bard has quit the band. The official version is that he will still be involved in composing and producing. It also seems as Anders Wollbeck and Mattias Lindblom has got a composing deal with Sony to write songs for other artists.
The album Seance At The Chaebol was apperantly released in Denmark, Italy and Russia. And rather quickly removed from Denmark and Italy, leaving Russia the only country to sell it. They then started to rework the album even more. Supposedly the people at Cherion (who is behind Brittney Spears, Backstreet Boys etc.) would be involved. The album will now be called The Culture Of Night instead.
Anyway around Christmas 1999 Icaros was released to selected radio stations and started to get some air play. It was said the single and video clip would be out when the radio started to play it a lot. As that seem to be distant at the moment it is not known what will happen again...
---
News added 1998-08-22
New album update and live show.
About a week after the live show I visited [ See the live page] Vacuum performed in Stockholm. This was at Kulturhuset in conjunction with an exhibition called Mot Månen [= Too The Moon]. They did three songs: Tonnes of Attraction, I Breathe and Let The Mountain Come To Me. The show was for about a hundred people. My guess is it was done due to Marina being owner of an art gallery.


Click to go to the VACUUM LIVE page.
It includes pictures and a report from the August 1998 show in Göteborg and Stockholm.
The show was visited by Vacuum fan Csaba Kovacs who took a few photos and joined them backstage and asked about the new single and album. The single should be out 'very shortly' [yeah right, this was two weeks or so ago and still nothing out... What are Stockholm Records up to???]. The album will be out in Sweden in October. There will be a new track compared to the already released version of the album. Science Of The Sacred will be removed and four tracks remixed.
---
News added 1998-07-29
New single, and album update.
The video for Let the Mountain Come To Me was first shown in early July on ZTV. I have also come across a pre-release copy of the two track CDS. But so far nothing has been released in the shops. To be honest I do not know if there is a serious brain breakdown at Stockholm Records. Anyway the CDS contains a 3:30 long version of the title track, and a 4:37 long remix by Anders Hansson of Parallel Universe. The sleeve contains a large photo on the front and a small one on the back. They are from the same photo session as those on Tonnes Of Attraction. I liked the video, and I quite like the song as well. But I do not think it is as catchy as Tonnes Of Attraction. As the single has not been released yet, the album is not likely to turn up until September, October or even November.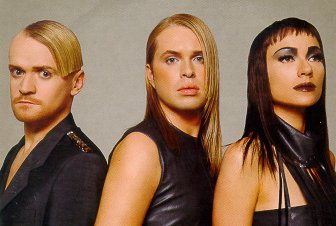 Click on the picture to see the complete sleeve!
---
News added 1998-07-19
Interview with Mattias.
Vacuum's singer Mattias Lindblom was interviewed in today's Göteborgs-Posten (the big morning paper in the Gothenburg area). He was out on his own promoting the upcoming album. He talked about the success in Italy, and how he got 'scared shitless' when in Napels, Italy, there had turned up 250.000 people on a festival which Vacuum attended. The reporter also states that the guy he is interviewing is quite far from the androgen type that is featured in videos and on sleeves.
Mattias also states that there have been a lot of fighting in the studio, as both he and Alexander Bard has very strong minds. However that is also good in the end as this usually leads to a good result. Anyway he thinks it good to be out on his own and get away from Alexander's chatter. He also explains what a 'Chaebol' is. It is a Korean term used for the mega corporations like Hyundai that manufactures everything, from umbrellas to cars and aircraft's.
He dodges questions about his former band Obscene Phonecall which was a cover band and Mattias was the drummer. But he tells a bit of his side show, a trio. Not to be mistaken for a solo career. They play songs by the likes of David Sylivan, Japan and Depeche Mode on various bars and restaurants. He thinks Vacuum is in a very exciting era right now and that they will probably make five more albums. He is also looking forward to Vacuums tour, which will take them here on August 7th.
---
News added 1998-04-27
New album and single.
It seems as the new single Let the Mountain Come To Me will be out in May or June. How ever there is rumoured to be promo CDs circulating already. The new album Seance At The Chaebol, originally planned for April seems to be delayed also. First to May, then to June and according to the latest news it may even be August or September. The reason is of course the fact that Tonnes Of Attraction failed on the charts and the radio. How ever this is not a real cause for desperation, as it apparently is already released in Denmark, and supposedly Italy should also have it soon. What are you still reading??? I thought you run away to the import section of your local record dealer.. :)

Seance At The Chaebol track listing
Tonnes Of Attraction
Power
Tears Of A Nation
Let The Mountain Come To Me
Chant Like A Mantra
Satyricon
Nuclear India
The Culture Of Night
Big Ideas Grand Vision
Ulysses
I Breathe
Science Of The Sacred


4:21
3:53
4:14
3:29
5:02
4:06
4:16
3:55
4:15
4:15
3:55
3:49
---
News added 1998-03-13
Tonnes... finally released!!
Tonnes Of Attraction is now out on two different CDs. The song is composed by Alexander Bard/Anders Wollbeck and produced by them and Anders Hansson. Hansson has also remixed (Extended Version).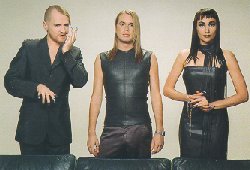 Click on the picture to see the complete sleeve!
---
News added 1998-02-28
Tonnes... release date.
Tonnes Of Attraction will be out as a single on March 9th. However it is a hit even before that, as it this week (W809) enters the Swedish Dance Chart at number 39. This means that it is very likely that there is a promo 12" somewhere out there... Also after hearing the song a few times I have now changed my mind and realized it is a rather strong song.
---
News added 1998-02-09
Tonnes... will be the "easiest" song on the new album.
According to Vacuum, who today was interviewed on ZTV, this is the easiest song they have ever recorded and so they did a fairly easy video. A party video for a party song. The other songs on the new album Seance At The Cheabol will be much more club oriented and heavier. They talked about their collaboration with techno duo Antiloop, it was not made clear if this was merely on remixes or as producers. The new album will be promoted through out Europe.
---
News added 1998-02-01
Tonnes Of Attraction remixed by Antiloop.
Swedish techno group Antiloop has made remixes of Tonnes Of Attraction. The have previously made remixes for I Breathe (which has not been released in Sweden) and Pride In My Religion. Antiloop has made a lot of remixes for a lot of artists, mainly Swedish, but also foreign like the new Aqua single. They have the good taste of putting out a sound clip from each remix on their site. They are currently working on their second album.
Listen to the Antiloop remix of Tonnes Of Attraction!!
Either directly here, or from the Antiloop site.
Tonnes Of Attraction (Antiloop Remix), RealAudio format.
Tonnes Of Attraction (Antiloop Remix), MP3 format
I Breathe (Antiloop Remix), RealAudio format.
I Breathe (Antiloop Remix), MP3 format.
---
News added 1998-01-30
Tonnes Of Attraction to be released as a single.
Today on music channel ZTV's show Tryck Till the video as well as the song itself was aired for the first time. Tonnes Of Attraction is a mid tempo song, sounds exactly like anything on the album The Plutonium Cathedral. I have now only heard and seen it once, so maybe it will be better after a while. But in my opinion this song is not really single material. It is very "average", nothing that sticks out. The video is dead boring, just a bunch of people dancing around. We have seen that too many times a long time ago. After the previous good videos this is a big disappointment. Another new thing is Alexander's beard, which suits him.
The video is directed by Fredrik Boklund, who did all the Army Of Lovers videos. To find the dancing crowd the band went to a huge amount of clubs in Asia. All the people in it, apart from Vacuum of course, are transsexuals (people who has had a sex change operation). It was filmed in Bangkok and Kuala Lumpur.